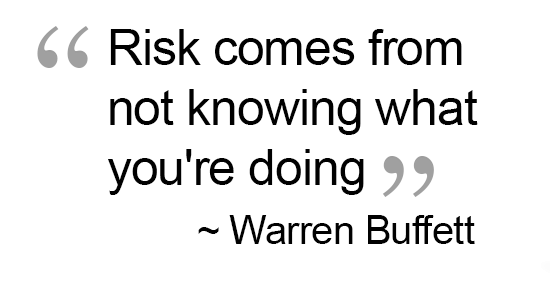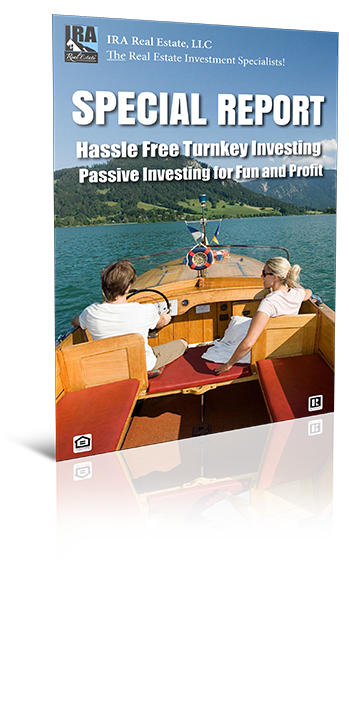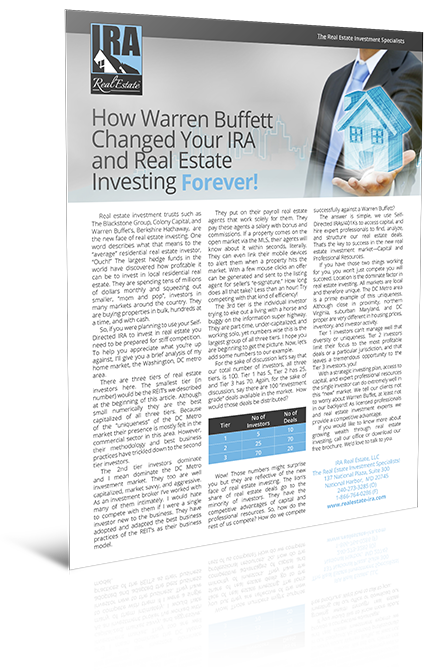 Act Now
Discover What Only 2% of Americans
Know About Creating True Wealth…REAL ESTATE
How to make "strategic" real estate investments

How to maximize profits and minimize risks

How to protect your hard earned wealth & assets

How to qualify for substantial tax deductions each and every year

How to earn returns of 12% and more
FREE
High Yield Residential Properties Success Kit
IRA Real Estate, LLC will not share or sell your contact information. Providing us with your email address simply allows us a way to share more personalized information with you.
IRA Real Estate, LLC has developed the Investing in High Yield Residential Properties Program to help our clients' build wealth for the present and the long term by strategic real estate investments. One size does not fit all when it comes to real estate so we've developed programs to suit the individual needs of our various investor clients. We are uniquely qualified and positioned to help our clients succeed because we are both licensed real estate professionals and personally successful investors.
Strategic Real Estate
Investment Plan
Real estate investments come in a variety of colors, styles, and sizes. One size does not fit all. You've got to know what works for you and what doesn't. But, you're new, and you don't have a clue as to what to do first. With the professional services you get from IRA Real Estate, you get started right, right from the start.
Self Directing
Retirement Funds
In many cases individuals want to utilize their retirement funds to invest in secure and highly profitable real estate investments. What they lack are the real estate professionals with the experience to help them do that with confidence. We're ready, willing, and able to help you reach your financial goals.
Passive Investment
Process
Passive investing means we take the guesswork and the long process of vetting your team out of the equation. Removing the barriers for our investors and allowing them to take advantage of one of the premier property markets in the country! The DC Metro area is one of the top two real estate markets in the entire country.
The Best Real Estate Investment Plan…is the one personalized for you!
Do you want to succeed as a real estate investor? Let us help you complete a realistic and executable plan, a Strategic Real Estate Investment Plan™. This is your very own tailor-made roadmap to success. We will help you define your goals, identify your resources, and tap into the licensed professionals that will assist you in locating, analyzing, and closing your deals. Remember, real estate is a business, and every business that is successful starts with a plan. You must plan on success, there is no other way to attain it.